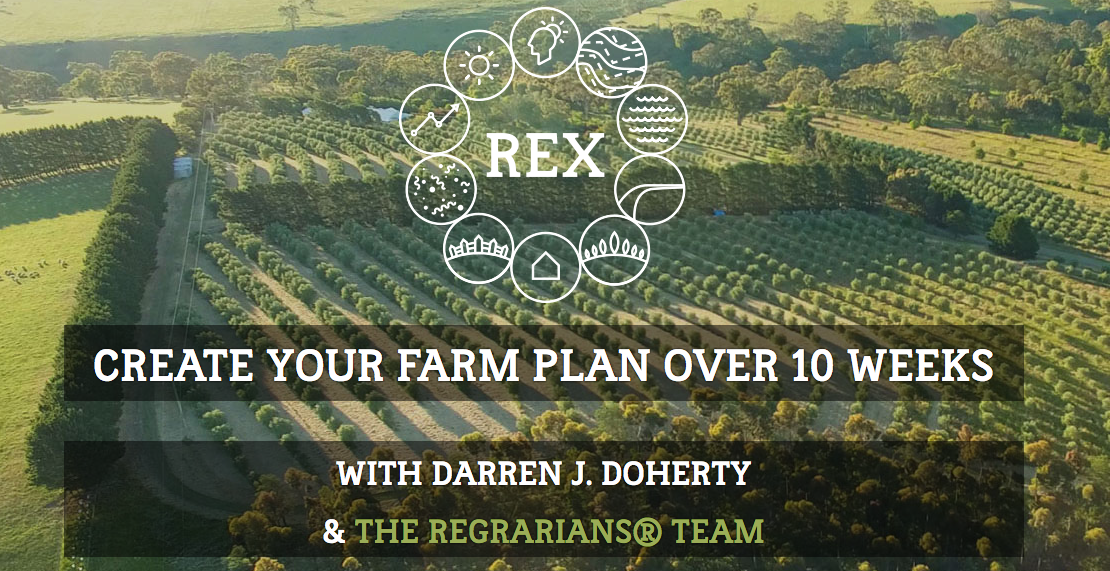 Here at Grounded Permaculture we are always researching and implementing best practice when it comes to agricultural land planning, and the Regrarians platform developed by Darren Doherty is a fine example of this.
"…Our primary responsibility is to the regenerative enhancement of the biosphere's ecosystem processes. Our secondary responsibility is to provide the potential for people to be informed about the regenerative economy, whether it involves their work in agriculture, land management, corporate life, domestic services, manufacturing or other activities that are within the reasonable domain of humans…" – Regrarians Ltd. Statement of Purpose
Based on P.A Yeomans 'Keyline Scale of Permanence' the Regrarians platform is a modern template and methodology for the holistic planning, design and management of of agricultural landscapes. Since 2009 Rex Farm Conferences have occurred all over the world and until now the only way to be trained up with this platform was by attending one of these conferences.
However, now there is the unique opportunity to do this training online and create your very own farm plan over 10 weeks based on the Regrarians platform, fully supported by Darren and some of regenerative agricultures best practitioners. Globally many of Darren's alumni and client base of well over 15,000 people are at the cutting edge of the movement towards regenerative agriculture & living systems.
Grounded Permaculture Action Party is proud to be a part of the affiliates program and potential participants who use the link below will get a free DVD of the multi-award winning Polyfaces documentary, a copy of the available chapters of the Regrarians eHandbook AND a VIP pass to Grounded Gathering 2018.